People have compaired me to:

Simon & Garfunkel, Violent Femmes, Bob Dylan, Elliot Smith, Bright Eyes, Calibretto13, the Beatles, Nirvana, Pedro the Lion, John Pryne and Beck... well whats what they say anyway. (but dont take their word for it)
the world is over-run with singer/ songwriter/ guitarists... here is one more.
insomniac folklore
Well, my name is Tyler Hentschel and I play music. I was born and raised in the laid-back town of Roseburg, Oregon. In this town, I have made the cover of the weekly entertainment section of the paper. I have also been voted the "local favorite band/artist" and have played just about every local venue imaginable. I have also played at music festivals like "Tom Fest" and "Cornerstone". Even though I was not a scheduled artist at "Cornerstone," I played 2 sets and sold over 30 CDs before my second set without having a merch table. I have toured the west coast and have done some national dates as well. I plan to tour more extensively in the near future.
The whole thing started for me in high school. I got my first guitar my freshman year and started playing in bands as soon as I could. I played in a variety of punk and hard-core bands (and yes even a rap-core group). But, through it all, I was writing songs on my acoustic guitar. I started looking for a singer who could do my songs without changing them. But it didnt happen, so I decided to just do it myself. I never considered myself a singer, and when I first started, I wasnt! My junior year I played at a school assembly in front of a couple hundred people. I did three of my songs, and looking back, that was the boldest thing I have done up to that point because I was terrible! I soon started opening local punk shows and forcing myself to improve.
It was after my junior year that I decided to call myself "insomniac folklore" instead of "the Tyler Hentschel band." Why? Well, I no longer had a full-time band behind me for one, and I also thought it was less egotistical to have a band name other than mine. (Whether or not it is more egotistical for an individual to have his real name as opposed to a band name has been debated for some time and a conclusion has not yet been reached.) After I graduated, I put out a CD of songs that I recorded during high school (and yes it is kind of embarrassing) but it sold a lot better than I expected. I ended up making 120 copies of it and sold them all.
A year later, I was at Tom Fest and had managed to get an open spot on one of the stages. My set was ok, but seeing all of those bands in one place inspired me. I had a merch table where I was selling homemade well everything! CDs, t-shirts, stickers, etc. It was then that I decided I needed to step things up a notch. In the year following Tom Fest I: got real stickers and t-shirts made, put out a new CD, got a ". com", did my first tour with "Kat Jones" and "Map" and decided that this is really what I want to do with my life.
June of 2003, I traveled America for a month. I did some concert dates and was well received. the whole trip went perfect, I felt that God took care of me. I had the time of my life.
Later in the fall of 2003 I did a mid west tour playing dozens of dates for various coffee houses, parties and bars. I met my wife Britta in Chicago and now we tour together. She is an artist with an amazing heart for God. She is now a very essential part of insomniac folklore. She has been awesome helping with booking, sales and moral support to no end.
The past few years have been amazing and now I have a bunch of new songs that I cant wait to get out there! I feel ready to take over the world HAHAHA! Or at least put things up another notch.
- Tyler Hentschel (insomniac folklore)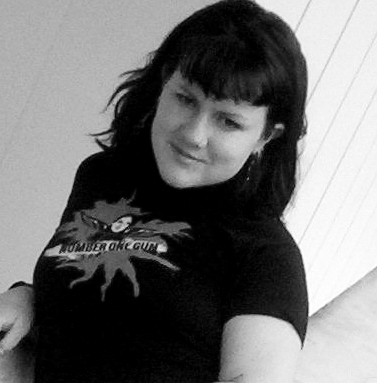 Britta Anne Hentschel (my wife)
NAME : Tyler B. Hentschel
NICKNAME(s): Charels, ty-ty, Shaggy, Kermit, Sunshine,Beck, otaku13
BIRTH DATE: 12-16-82
JOB (IF ANY): part time bed delivery man/ baby sitter/ Janitor!
FAVORITE SPORT(s): Free-Style Bowling, Walking
FAVORITE TV SHOW(s): Mystery Science Theater 3000, Twilight Zone, Star Trek, Freaks and Geeks
FAVORITE MOVIE STAR: Matthew Lillard
FAVORITE COLOR: Blue no wait!
FAVORITE FOOD: Pizza
IF YOU WERE A FLOWER WHICH ONE WOULD YOU BE: Snap Dragon
DO YOU SPEAK SPANISH: no
DO YOU SPEAK FRENCH: NO!
WHAT IS YOUR FAVORITE CARTOON(s): Tenchi Muyo!, Invader Zim, Rin& Stimpy
IF YOU HAD YOUR ARM CUT OFF HOW WOULD YOU FEEL: Sad
SHAVE YOUR HEAD FOR $1,000 DOLLARS: Try $10
WOULD YOU EVER KILL SOMEONE: maybe
WHAT IS THE WORST MOVIE YOU HAVE EVER SEEN: Titanic, or gore-met zombie chef from hell
HOW MANY FINGERS DO YOU HAVE: 10
DO YOU SHAVE: when i feel like it
DO U WEAR UNDERWEAR: yup
DO YOU WEAR SOCKS TO YOUR KNEES: I dont have any that long
DO YOU PREFER CHOCOLATE OR VANILLA CAKE: Chocolate
DO YOU LIKE SCHOOL: not really
A FREE VACATION WHERE WOULD YOU GO: JAPAN! or england
DO YOU LIKE ROLLARCOASTERS: yes
HOW MANY KIDS DO YOU WANT: 3.5 (more than the average family:)
HOW MANY TIMES HAVE YOU BEEN KICKED OUT OF SCHOOL: not yet
HAVE YOU EVER BEEN WATER-SKIING?: no
WOULD YOU GET IN A SHARK TANK?: are there sharks in it?
DO YOU WEAR A WATCH?: no
WHICH HAND DO WOULD YOU WEAR IT ON?: I think I would wear it on my ankle
DO YOU HAVE A CAR: yes 86 dodge van!:(
DO YOU LIKE APPLE SAUCE?: YES!
DO YOU LIKE CATS: not really
HAVE YOU EVER CAUGHT A FISH: yup
DO YOU LIKE PIZZA: have you been paying any attention to what ive been saying?
HAVE YOU EVER BEEN IN LOVE: yes
DO YOU LOVE SOMEONE RIGHT NOW: FOR SURE!
DO YOU SHOWER OR TAKE BATHS: flip a coin
HOW MANY TIMES DO YOU WASH YOUR HAIR A DAY: i dont at the moment
DO YOU PREFER PEPSI OR COKE: ice tea!
DO YOU BELIEVE IN GHOSTS: depends in what you define as a "ghost"
RIGHT OR LEFT HANDED: right
DO YOU LIKE KNOWING MORE ABOUT YOUR FRIENDS: yah
DO YOU HAVE A GOOD SENSE OF HUMOR?: that is up to you
WHAT IS ONE THING YOU CAN'T DO: paperwork
ARE YOU AFRAID OF DYING: nope
WHAT IS ONE WORD THAT YOU THINK IS OVER-USED?: fo' shizzle
DO YOU LIKE WHERE YOU LIVE : its ok, be happy where your at:)
WHAT ARE YOUR FAVOURITE SONGS?: Like a Rolling Stone by Bob Dylan, Only In Dreams by Weezer, New Dimension of Love from Tenchi Muyo, High 5 by Calibretto13, Loser by Beck, (just to name a few)